Night Jumps this weekend
May 3, 2017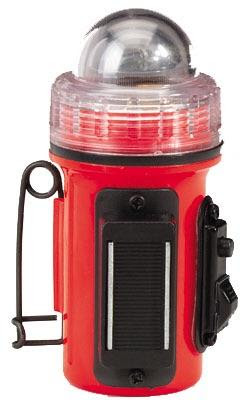 Night jumps are coming this weekend! We're going to try for Friday night with Sat as a 'rain date'. If both are bad, we'll try for next Fri or Sat.

You'll need several chemical glow sticks. One or two to mount on your rig and one to mourn near your altimeter so you can see it :-))

You'll also need a strobe light similar to the one above. This will be turned on under canopy so others can see you. Some of them also have a flashlight feature so you can use it to check your canopy after opening for rips/tears or broken lines. If your strobe does not have a flashlight feature, you'll also want a small flashlight for checking your canopy.

We may have a couple strobe lights at the dz, but those are in limited supply. Since we'll be ferrying to Wayne Co, you will not be able to share strobes with anyone, you'll need to bring your own.

Sunset is about 8:20, so plan on the briefing taking place about 8:15, with the first load leaving for Wayne Co at about 8:45 or 9pm.

Be sure to email aerohio@earthlink.com if you're planning to make a night jump and if you're available Friday and Sat, or just one or the other.
« Back to Blog